2023
My new CD is out! It is called G. Smith and friends – Songs from the past! You can buy it on Amazon, Spotify, Apple I Tunes You tube, CD Baby and a number of other music streaming services. Mostly it is available by download but if you want an actual CD you can send me $15 to P.O. Box 1841 Julian, Ca. 92036 and I will send you one in the mail. This compilation is a group of songs that I wrote and recorded with different musical groups I was in over the past 35 years. So, there are a number of variations but still all are on acoustic guitar but with different groups. I realized there was some great music sitting in my garage on cassette tapes and I wanted to have some kind of way of saving it instead of it rotting away. These groups were great musicians and great people, and the CD jacket reflects the credits, their contributions and tremendous talents. There is one new song that I recorded this year that is on this CD, and it is called Zion and my wife sings with me on it. Hope you all are well, what an interesting time to live in! I am playing new places and some places have stopped doing music so just check my calendar on where I will be playing. All the best – Glenn
2021
Well to say this past year has been surreal would be an understatement but it seems we are moving in the right direction.  Shows in 2020 were far and few and a number of places that I regularly played are still not ready to get entertainment back but the wineries have been great as things started back up with music, (thank you Ramona Ranch and Grant James).  Check out the show calendar for upcoming shows as things are definitely starting to pick up.
Also, I am working on a new/old music project in the studio compiling music which I am going to call Glenn Smith and friends – Songs From the Past.  I realized I had some good music sitting out in the garage on cassette tape disintegrating and many people out there had not heard it.  I stuck with mostly acoustic style songs and will be adding some newly recorded songs that I actually wrote years ago but never had the chance to record them so it should be a great compilation and fun project.  I will make an announcement when that is finished.  Until then lets keep together and enjoy the fact that we can see each other again as live music is back!  Look forward to seeing you again!
All the best – Glenn
2017 – 2019
It's finally out!  My faith based CD, titled – TODAY!  It took awhile but with some financial help from a friend and some creative time scheduling we were able to do it.  It is available on line if you want to just download the music on Amazon, I Tunes, CD Baby, Spotify and Apple Music.  If you want an actual CD with pictures and liner notes then send me a check for $15 to Glenn Smith, P.O. Box 1841, Julian, Ca. 92036 and I will send you one in the mail.  Make sure you include your return address.
This was such an incredible project.  I got my wife singing with me, and all my kids singing and playing percussion, it was great.  The best part is that it is a message of glorifying God.  These songs were the work of a higher power and I am thankful to be a small part of it.  It really came out good and I think you will like it.
On all other fronts – going well, playing a lot and enjoy seeing you regulars at the shows.  Thanks for all the support and live each day like it's your last because one day it will be.  God bless – Glenn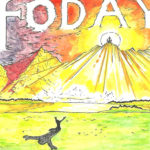 2015
Just a quick check in and thank you to all of you who continue to come out to the shows and a hearty thank you to all of the new people I have met that have been so wonderful in your support while playing at these venues.
It seems like whenever a venue closes another one opens so things keep rolling and yet again, I can't complain.  I have recently begun playing at Vintana Wine and Dine in Escondido and La Casa Del Zorro Resort in Borrego Springs which has been a lot of fun along with the other great venues I play regularly.  I have learned so many new songs in the past year that I can't begin to mention them but the song list is truly up to 500 now!
My guitarist from my old band, Aur'a-Sen, and best man at my wedding, David Mclean, (Dr. D) from back in the 80's heavy metal days has re-released our Innova-Mode album so see if you can check it out online.  Thanks again Dave.  And there is also a You tube video of my high school band, Outlet, playing Monkey Man by the Stones at our high school reunion which was a lot of fun and came out pretty good.  Thanks Keith, Pat, Brent and Stewart.  Also my wife Jen is playing percussion on that one.
Here's to a great new year and as hectic as things get – every day is a blessing.  I hope all of you are well and remember – "To find yourself, lose yourself in the service of others" – Gandhi.
2013
Well here we are in 2013 and things are still going strong. The shows keep on coming in and I am not complaining. Sad to report a great venue, The Wine Cabana, is no longer open down in Old Town. We had some great shows down there. Thanks Keith and Brandi for the great memories. Also, I am no longer playing at Jallapeno Grill in Escondido due to some logistics but maybe they will get worked out, Ray has always been a great support.
On that note though I am playing some new places to fill in the gaps. I am now playing regularly at The Gambling Cowboy in Old Town Temecula and that has turned out to be a great place. Wow, I had no idea Old Town was so lively. I am also now playing at the Pala Mesa Resort in Fallbrook, The Mill in Murrieta, The Rancho Bernardo Inn and Morgan Run Resort. Where there is a will, there is a way. I have learned a whole slew of new songs – I kept getting requests for more 80's music so I threw a number of those in – Men at Work, Tommy Tutone, Modern English and alright – even The Bangles. You never know who or where you will be playing in this business.
By the way, I have loved playing out at Thousand Trails Resort in Palm Springs and Idyllwild – those people have been absolutely great. Currently working on playing at Capri Blue, Beaumont's in La Jolla, and Vintana's in Escondido. Let em know you want to hear The Human Jukebox – AKA, Glenn Smith, at these places.
I hope all who read this are well, live each day like it is your last, because one day it will be. Hope to see you at some shows and make each day count – God bless – Glenn
2012 NEWS  
Well, just like I thought, 2011 exceeded 2010 in shows played.  It is amazing in this economy that the music is taking off so well.  2011 brought some really interesting shows as well.  I played on The America Yacht Sailboat in the Summer which was interesting.  Here I am moving on the water, playing music and watching the dolphins swim.  Then I was hired to play a party in Las Vegas in the Fall.  (Thanks Walt, it was a great time).  I drove out to Vegas on Thursday, played the party on Friday then drove back the same night getting a hotel in Barstow and then waking up the next morning to play a Winery in Temecula.
Never a dull moment in this business.  I am so very thankful to all of you who have supported me by coming out to the shows and getting into the music.  Playing music is a passion but a benefit is forging friendships with people who share that passion.  I have been learning about 2 new songs every month to keep the song list fresh – some newbies I learned that I kept getting requests for were songs by artists such as Jackson Browne, Procol Harum, Dire Straits, Red Hot Chilli Peppers and many more.  I have also written 4 new original songs this past year and am focusing on this more.
On that note, I am still in the process of finishing up my studio work to put some sample songs on this website.  On top of that all still holds true for my goals to put out my original tunes on CD.  This past year has literally been that intense.  Not just playing more shows but I have to balance out raising/supporting a family along with my music and honestly there are times where I will turn down shows because I need and want to spend more time with my family.  So it will happen, it's just a matter of working in the time.  So until next time keep coming out to the shows and push the cause – call casinos, your local venues, anyplace that has live music and ask them to book Glenn Smith.  Direct them to this website and they will have all the info they need.  Thanks so much and take care – G
2010 IN REVIEW
Wow!  What a year 2010 was.  A lot of things going on and being very busy.  I played more shows in 2010 than any other year and 2011 looks like it's going to be even busier.  I am also spreading out off of the mountain more as you may have noticed – from Coronado to Borrego!  I am playing at certain spots monthly and that has been a nice steady situation – such as The Jallapeno Grill in Escondido, John's Bar and Grill in Vista, Mc P's Irish Pub in Coronado, Wynola Pizza in Julian, and of course during the desert season – Carlee's place in Borrego Springs.
I am working on three different projects right now that all involve original material.  I am still working on putting out a faith based CD in the Spring and hope that it will be a finished project soon.  Then I am working on a Glenn Smith acoustic CD of original songs I have composed over the past two years.  Then I am working on a full alternative rock CD of originals that I have been working on over the past several years which wll be very interesting.  So, mix that in with playing out three times a week and raising a family and you have one busy schedule.  But making music is the essence of creation and bringing it to people who appreciate it is what it's all about.  So thanks for checking in and I will update any new news as it comes along.  Until then take a few moments if you will and push the cause – call certain places and ask to have Glenn Smith perform – such as Hennesey's in Carlsbad – (Kyle) 760-729-6951, The Public House in Temecula – 951-676-7305 (Ryan), Morgan Run Resort-(Erin) 858-756-2471, La Costa Blue Fire Grill – 800-854-5000 (Joey) – And the local Casino's for Glenn's band.  They all have been contacted they just sometimes need a little extra push.  If they are not there leave a message.  Thanks again and see you at a show!  .
.